Post-Purchase Flow – What You Need to Know
What is the Post Purchase flow, and how significant is it?

Recognized not just by email marketers but also by regular users, Post Purchase flows are essential when it comes to building loyalty and brand image.
What makes Post Purchase flows so important is the fact that they can convert a first-time shopper into a regular customer. Post Purchase flows may help your brand depict care and appreciation for your users by portraying various brand content and, thus, stimulating engagement after a user makes a purchase.

Still, the Post Purchase flow represents quite a broad term that can be subdivided into several sequences with different goals. These include the following:

Thank you sequence
Taking the time to appreciatе the user for making a purchase makes the post-purchase experience unique and special. It also humanizes the entire purchase process for the user and, therefore, positively contributes to your brand perception.

The content that can be included here should be connected to your overall brand values and not be forcibly pushing for a repeat purchase but nurturing a long-term positive relationship with your customers.
Cross-sell sequences
Cross-sell sequences act as a complementary supplement to your already-created Thank you flows. They are used to recommend either related or complementary items to your user based on the information that you have on their previous purchases.

In general, cross-sell emails are shown to be an extremely effective way to motivate users to make another purchase, which is why they are also seen as one of the most profitable ways of doing email marketing.
Up-sell sequences
Similar to cross-selling, upselling is also aiming to motivate the consumer to buy again. However, this time, the idea is to sell a higher-priced product that will be relevant to the initially purchased item.
It's much easier to sell a high-value item to a user who has already bought from you than to a person who hasn't. Thus, the idea of the upselling sequence is to leverage that factor by targeting your customers who bought cheaper items at your store and selling them something more expensive.
Feedback Request sequences
Fact – product reviews generally serve as an extremely beneficial tool to use in marketing. Users often check the feedback for a product they are looking to get provided by previous users. Therefore, product reviews can directly influence your user's brand perception and, consequently, purchase. This is why it is essential to collect them.

A consumer might be likely to check product reviews, but leaving such is not always their habit. Therefore, as an incentive for users to leave a review of the product they bought, it is useful also to provide a discount offer or a gift that would urge them to do so.
Content emails
If you have a blog, a YouTube channel, or other collections of content, you can use it to engage your subscribers who are already customers.

Depending on the context and your niche, you can pick different articles or videos to showcase. For example, if you sell perfumes and have a blog article with tips on how to spray them, why not share that with the customer and give them valuable advice they will appreciate?
This will win you their trust and increase the chance they will buy again in the future.
What should the Post Purchase flow consist of?
The Post Purchase flow is generally structured to provide enough brand content, as well as offers for your users.

The first email should aim to appreciate your customer for buying from you. In other words, the first email to be sent is a thank you email. This particular email may have the objective of emphasizing brand values as well as informing about any potential ongoing initiatives or activities undertaken by your brand.
After a certain amount of time, the next email may either represent a variation of the previous one, or it may also embed an offer for the user to inspire or point towards another potential purchase.
Once again, after one or more days, the third email may be a reminder about the potential offer or discount that the user has received but hasn't used yet. The last couple of emails following may have the objective of creating more urgency so the user becomes eager to make another purchase.
Other potential emails that may be included in your Post Purchase flow could also possibly provide a discount offer to your user, paired with a request for a product review, which would serve as valuable feedback for your brand in the future.

Other than that, consider also asking your customer for a referral – this can be a big opportunity that will bring new customers who never heard of you before!
Post Purchase Flow Setup in Klaviyo
The Post Purchase Flow is triggered by the Placed Order event, i.e., when a customer has placed an order. The specific way to set up a Post Purchase Flow in Klaviyo from scratch is as follows:
From Dashboard, click on the Flows tab
In the upper right corner, click Create Flow
Click "Create from Scratch" in the upper right corner
As a trigger, select Metric
Click on the dropdown menu and choose the event "Placed Order"
Click done
Once you're done with the trigger setup, it's important also to add a flow filter "Placed order 0 times since starting this flow" to prevent people from staying in this flow if they buy again. Click on Flow filters >>> Add flow filter >>> select condition – "what someone has done or not done" >>> choose metric – Placed Order >>> then select "zero times" and "since starting this flow" >>> Save >>> Done.
The next step is to introduce the appropriate time delays and then proceed with creating your email structure with the drag & drop editor.

After your first email, there needs to be a specific time delay before proceeding with any further discount offers, feedback requests, content, cross, or up-selling emails.
In the example below, the chosen time delay equals 10 days, though it's not a hard rule. They can vary depending on the brand, the industry, as well as the type of audience.
The following emails you can introduce may be divided with more consistent time delays as you begin to introduce brand-building and sales-oriented emails.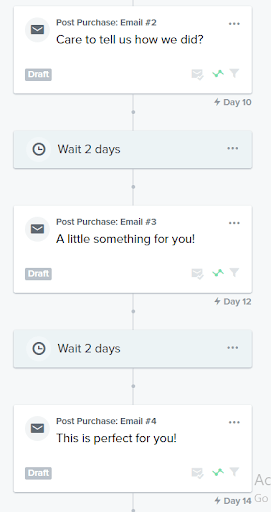 Additionally, you can leverage splits to divide your flow based on the different products your customer could have purchased. That way, you can create a more personalized post-purchase journey for each type of customer.

Imagine you are a fashion brand. Why not create different branches for buyers who got pants and buyers who got T-shirts? You'd frame the copy in each email to be addressed to the person who bought specifically from that category. Thus, your personalization will be more advanced, which can eventually contribute to having a higher order rate from each email.

Here's an example of one of our accounts where the store sells epoxy resin – customers are segmented based on the type of epoxy they bought.
Note: keep in mind that you need to use "Trigger splits " and not "Conditional splits" to make those segmentations.

To activate your flow, click on the Manage Flow dropdown menu once your flow is ready for activation. Click on Update All Action Statuses, choose Live from the dropdown, and click update statuses, after which you can select Save & Exit.
End Note
Post Purchase flows are a part of the five foundational flows, which are highly recommended for every brand. Although there can be many variations of the Post Purchase flow, the emails to be employed depend solely on a given industry or brand itself and should therefore be created in accordance with a given brand's specifics. Through effective implementation and application of the Post Purchase flow, brands are undoubtedly able to turn one-time purchasers into loyal consumers who want to purchase again and again.